Fundraising for 'Cancer Research UK' & 'Against Breast Cancer'
Here at Aurora Skin Clinics, we love supporting and fundraising for fantastic causes and this year's no different. In 2016 we're supporting both Cancer Research UK by participating in our very first team entry into the Race for Life 5k and Against Breast Cancer with the return of our bra recycling scheme!
Race for Life – Aylesbury and Falkirk 5K
The ladies at Aurora Skin Clinics and our sister companies Aurora Clinics and Cosmetic Courses are joining forces to raise money for Cancer Research UK by joining the #PinkArmy. A total of 17 of us have entered the Aylesbury Race for Life and 6 of our colleagues across the border the Falkirk Race for Life!
Almost every member of our team has been affected by cancer in some way. So by coming together and raising money for such a great cause hopefully we can go some way to beating cancer once and for all.
Do you want to join the #PinkArmy?
We'd love to see you there as part of the Pink Army, running or walking alongside the Aurora team or simply cheering us on. If you'd like to join us in beating cancer then the dates and venues are as follows:
Aylesbury 5K: Sunday 15th May at 10:30am Venue:Waddesdon Manor, Silk Street, Waddesdon, HP18 0JY
Falkirk 5K: Sunday 12th June at 11:00am Venue: Callendar Park, Callendar Road, Falkirk, Central, FK1 1YR
How can you donate?
We would really appreciate any donation towards our Race for Life. You can do this in person when you pop into clinic either at The Paddocks Clinic in Princes Risborough or The Gatehouse Clinic in Northampton.
Alternatively you can visit our Just Giving page, where you can donate online. It only takes a few minutes and we would really appreciate the support towards such a fantastic cause.
Remember every donation, big or small, can help us save more lives!
Bin your bra for Breast Cancer!
You might remember that in October 2014 Aurora Clinics took part in the Bin your Bra campaign for Against Breast Cancer. They had such a good response that they've decided to bring back the bra recycling scheme for 2016.
So if you fancy having a clear out of your unwanted bras then please don't just throw them into any bin! Throw it into the bra recycling bin which can be found in the reception at The Paddocks Clinic in Princes Risborough
Why recycle your bras?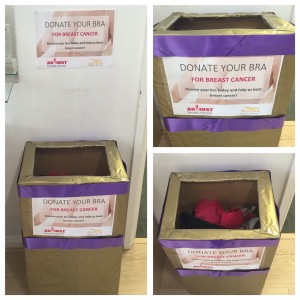 For every tonne of bras received, Against Breast Cancer receive £1,000 to go towards vital research for better detection and increased survival rates after breast cancer diagnosis.
Your unwanted bras also go towards helping small businesses in Africa where the materials from these bras can be sold by traders locally. This type of recycling keeps many people both out of unemployment and more importantly out of poverty.
Thank you to everyone who has donated so far and if you've got an appointment scheduled at The Paddocks Clinic in the next few weeks and would like to help, please feel free to bring in your bras and help us to fight breast cancer!